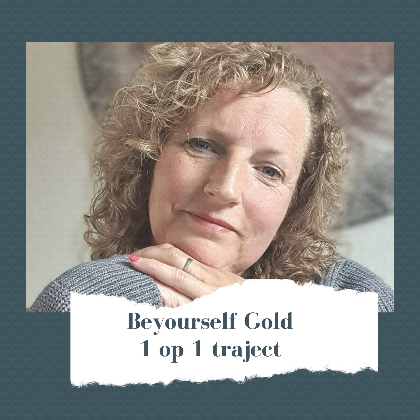 Beyourself Gold 1 op 1 traject
Ben jij het zat alle ballen hoog te houden, zit jij niet fijn in je vel de laatste tijd, weet jij ergens dat je iets moet gaan doen aan jezelf zodat je er niet bij neervalt  of verder afglijdt?
Dan is mijn 3 maanden BeYourself traject wat voor jouw.
Bij een 1 op 1  traject werk ik met de volgende basisbegrippen: Vanuit herkennen, erkennen, accepteren en loslaten kan ik je begeleiden jezelf weer te worden.
In deze 3 maanden plannen we samen 6 consulten in en gaan aan de slag met  oa innerlijk kind stukken, mijn innerwork methode, ego herkennen en dat wat zich in de energie laat zien. 3 maanden intensief kijken wat mag er zichtbaar worden zodat jij weer je eigen leven kan gaan leiden. Los van kramp, angst en overtuigingen.
Eigenwaarde en zelfliefde zijn hierbij belangrijke kernwaarden.
Be Yourself gold: 1 op 1 traject van 3 maanden. Je investering € 474,00  excl BTW. Met de mogelijkheid gespreid te betalen.