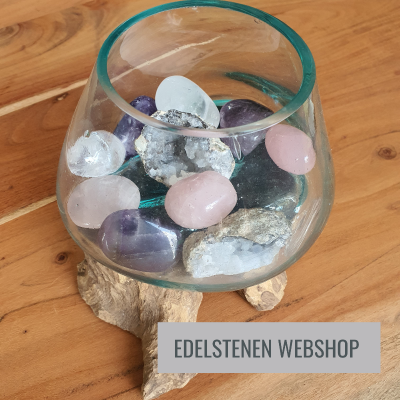 Ken jij de kracht van de edelstenen al? De geneeskrachtige werking van edelstenen en mineralen zijn al eeuwenlang bij mensen bekend.

De keuze van een edelsteen kan op verschillende manieren tot stand komen. Op basis van kleur en bijbehorend chakra, omschrijving van klacht of werking of bijvoorbeeld op basis van sterrenbeeld of geboortemaand.

Maar belangrijker is eigenlijk nog om af te gaan op eigen intuïtie of gevoel. Welke edelsteen "voelt" goed? Welke edelsteen vind ik het mooiste of spreekt mij het meeste aan? Goed naar onze eigen zintuigen en ons gevoel luisteren is de beste methode om edelstenen te vinden die op dat moment bij ons passen.

Voor een optimale werking is het verstandig om edelstenen vóór gebruik te reinigen en één keer in de zoveel tijd opnieuw op te laden. Breekt de edelsteen of verliest hij zijn kleur? Dan is misschien het moment daar, om een nieuwe edelsteen uit te zoeken.

In deze webshop vindt je de verkoop van zeer goede kwaliteit A edelstenen. Ze hebben een geweldige krachtige stralende uitstraling met een pure werking. De werking van de edelstenen staan vermeld onder de edelstenen in de shop.